The beauty industry has been growing, and salon professionals face various challenges in managing numerous customer appointments that require manual effort to provide seamless service. Luckily, Booksy offers an online platform that connects beauty professionals with their clients, streamlines administrative tasks in the salon, and saves time and costs. Nevertheless, it's critical to explore other market options that offer similar or superior features to Booksy to stay ahead in the competitive beauty industry, where technology advances rapidly.
In this blog, we will explore the Booksy alternatives so that you can make a switch and integrate robust all-in-one software to drive success.   
Remarkable
Booksy
Alternatives and Competing Platforms
Here is the alternative checklist for Booksy salon management software that helps to take your business operations to the next level.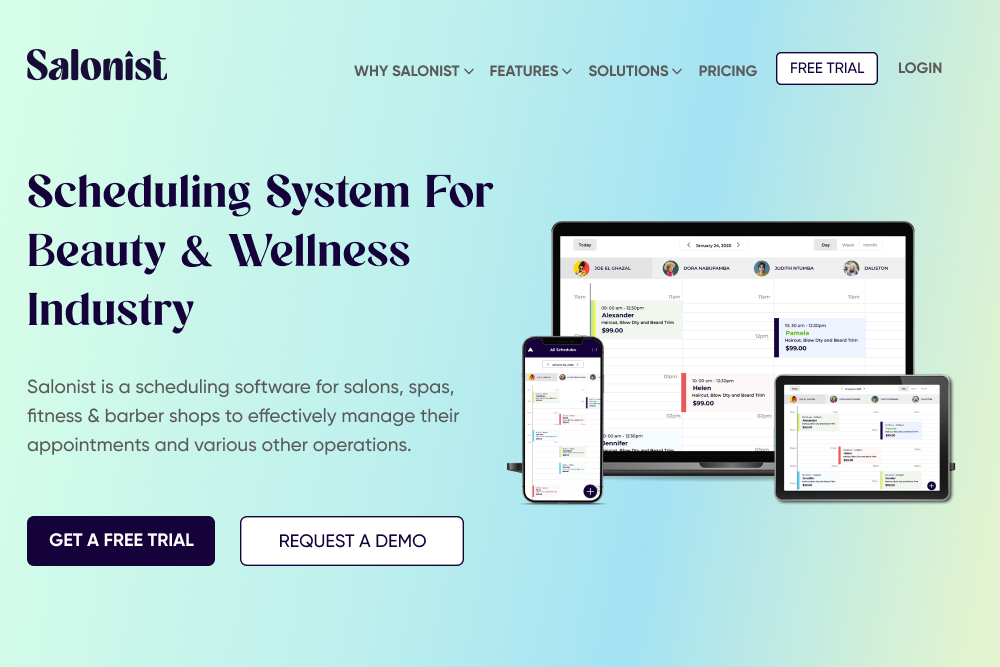 ---
Salonist is a salon management platform that has been trusted by over 10,000 businesses in over 60 countries. It effectively manages salon staff and customers, providing an ideal appointment-booking process for business owners. Moreover, it offers a 14-day free demo trial without requiring a credit card. This allows you to determine whether it suits your objectives or not. Eventually, this enhances the user experience and automates various salon administrative operations.  As a result, Salonist is best competitor of Booksy. 
Leading features of powerful Salonist software:
Flexibility to book salon appointments anytime.

Appointment calendar and real-time notifications.

Keep a record of staff attendance and manage their payrolls accordingly.

Free demo trails.

Multi-salon branch management.

Integration with third-party tools.

Salon's in-house and retail inventory management.

Customer feedback system.

Point of sale system.

High data security and privacy.

Detailed analytical reports.
Zenoti
---
Just like Booksy, Zenoti is an award-winning and successful salon management software for every size of beauty and wellness brand. It offers convenient online booking and customized recommendations, which gives every customer a VIP experience. In addition, Zenoti has the ability to integrate with other tools and software that enhance your overall salon efficiency and productivity.
A cloud-based Zenoti advanced functionalities are listed below:
24/7 appointment booking. 

Manage client profiles & memberships on a single dashboard. 

Around-the-clock customer support.

Business management.

POS integration. 

Mobile applications. 

Marketing campaigns.

Tailor options.

Staff and customer management.

Analytical reporting- a 360-degree view of business insights. 

Reward and loyalty program.

Online reputation management.
Appointy
---
Appointy is another one the Booksy alternatives that will give you an edge over your competitors in the beauty industry. When you utilize this software to its maximum potential, it will increase the effectiveness of the salon and the demand of the clients in the salon premises.
Standard features of top-notch Appointy Salon management software:
Self-schedule. 

Easy onboarding. 

Centralized admin portal.

Automatic confirmations and reminders.

High standards for data security.

Manage recurring bookings.

Create salon custom forms. 

Integrate with your personalized Google Calendar.

Live chat/ Email support.

Receipt customization.

Separate staff login.

Private API access.

Gift certificates and discounts.

Accept payments online.
Fresha
---
Fresha is the best option in terms of having high-quality advanced features that automate your beauty salon business.  You can manage employees' and customers' information in its centralized database and get insights to improve salon operations on time to drive success. 
The following are the rich features of Fresha:
Efficient salon appointment scheduling.

Stay up-to-date with appointment notifications.

Customizable message templates.

Unlimited analytical reporting.

Online self-booking.

Track client history.

Securely process client payments.

Set up your own online store.

Marketing promotions.

Get trusted ratings and reviews.

Fresha mobile app.

Automate billing and invoicing.

Manage multiple salon venues on a single platform.
Rosy Salon Software
---
Rosy Salon Software stands out as a flexible management solution, which is considered a top choice for beauty salons between Booksy alternatives. This software helps the clients to conveniently book appointments, while staff members can quickly address these requests effectively. Additionally, salon owners can utilize the software to send alert notifications to their clientele regarding upcoming discounts and promotions, driving sales and increasing profits.
Unique features of the robust Rosy salon software:
Appointment scheduling within just a few clicks.

Data import and export.

Centralized dashboard.

Calendar integration.

Reporting engine.

Salon inventory management. 

Text or email confirmations.

Product reservations

Rewards and referrals.

Billing and invoicing.

Mass email marketing.

Mobile access.
Mindbody
---
Mindbody is a robust Booksy-similar platform that smoothly manages customer appointments, staff schedules, payments, and billing over one software. This improves the salon operations efficiency and makes the customer experience far better by saving time and effort. 
Key features of the all-inclusive Mindbody:
Offer self-check-in.

Mindbody app listing.

Lead management. 

AI communication.

Access on any device.

Waivers and form.

Incentivize referrals.

Automate your marketing outreach. 

Branded mobile application.

Cancellation and refund policy.

Handle every sale on one system.

Business performance review.

Mindbody capital.
Insight Salon Software
---
Insight stands out as the premier software that is renowned for its highly responsive technical support and for resolving any issues as soon as possible. Therefore, it is regarded as a valuable investment who are considering a switch from Booksy to the top alternative.
Features of the innovative Insight salon software:
Book preferred salon resources in seconds.

Data is stored in its secure cloud servers.

Online appointment booking built-in.

No contract monthly subscription.

Free software upgrades.

Fully customizable.

Reward and track loyalty points.

Track birthdays and anniversaries to feel customers and staff valued.

Contactless payments.

Analyze inventory levels automatically.

Distinct reports and graphs.

Calculate taxes and other deductions.
Vagaro
---
Vagaro is a feature-rich software with a user-friendly interface specially designed for salons,  barbershops, and similar wellness businesses. It helps you to keep track of different key indicators, which streamline the salon management processes. You can try the free trial to experience the automated version of the salon.
The effective features of the Vagaro:
Online booking on Vagaro and social media handles.

Website builder. 

Create customer payroll tiers and pay directly to staff accounts.

Manage memberships. 

Customer tracking. 

Manage invoices.

Transparent and secure checkout.

Powerful data and graphs.

Scheduling recurring rent and fees.

Chat support with free training.
SimplyBook.me
---
SimplyBook.me proves to be an invaluable salon management software that meets the demands of salon owners and their team members. Whether you operate a small or large beauty salon, this software can be tailored to your specific needs. It automates several salon tasks that ultimately reduce administrative workload and improve productivity. 
Essential features of the SimplyBook.me:
Client & admin app.

API integrations.

Coupon management

Reminders to staff and customers whenever salon appointments are booked, canceled, or rescheduled.

Manage client's reviews for further improvements.

Secure communication and all data backed daily.

Loyalty system.

Custom email marketing. 

Easy and accessible online booking calendar.
Timely
---
Timely is a comprehensive platform similar to Booksy that streamlines the various operational tasks in a salon. It provides a free trial option, which allows you to look at its suitability and compatibility with your salon's specific requirements. Additionally, there is a professional version available that offers additional features for achieving success. 
The most vital features of versatile Timely:
Online booking around the clock.

Digital consultations.

Powerful marketing tools.

Shopify online store.

Automatically update client records.

Cash management.

Send pre-appointment forms via SMS.

Retail stock management

Insightful reports.

Online training.

Multiple location management.

Staff attendance and timesheets.

Waitlist.

Point of sale system.
The Winding Up 
To sum up, there are various booksy alternatives options with unique capabilities and benefits to consider. It's essential to assess your salon's specific needs and financial resources before settling on a choice. If you're having trouble deciding, we recommend give a chance to Salonist- best alternative of booksy. With this software, you can streamline many salon tasks, leading to substantial time savings and improved efficiency overall.
---