The beauty and wellness industry has seen a significant upswing in recent years, with an increasing focus on self-care and personal grooming. In this case, it becomes difficult for professionals to manage the 'N' number of customer appointments. It takes a lot of manual work to seamlessly serve your customers and improve their experience. Fortunately, Fresha offers a revolutionary online platform that solves these issues by connecting beauty professionals and experts with their customers. It helps you streamline multiple administrative tasks in the salon, which saves time and money. However, as competition rises & technology gets more advanced, it's also important to explore some other options available in the market that offer similar or better features than Fresha. This will help you stay ahead and thrive in the salon industry.
Here is the list of the best Fresha alternatives. Let's see each software's functionality and choose the best one for you.
The Best
Fresha Software 
Alternatives
&
Competitors 
The following are the advanced salon management software, which can be considered Fresha's best alternatives and take your beauty business to greater heights.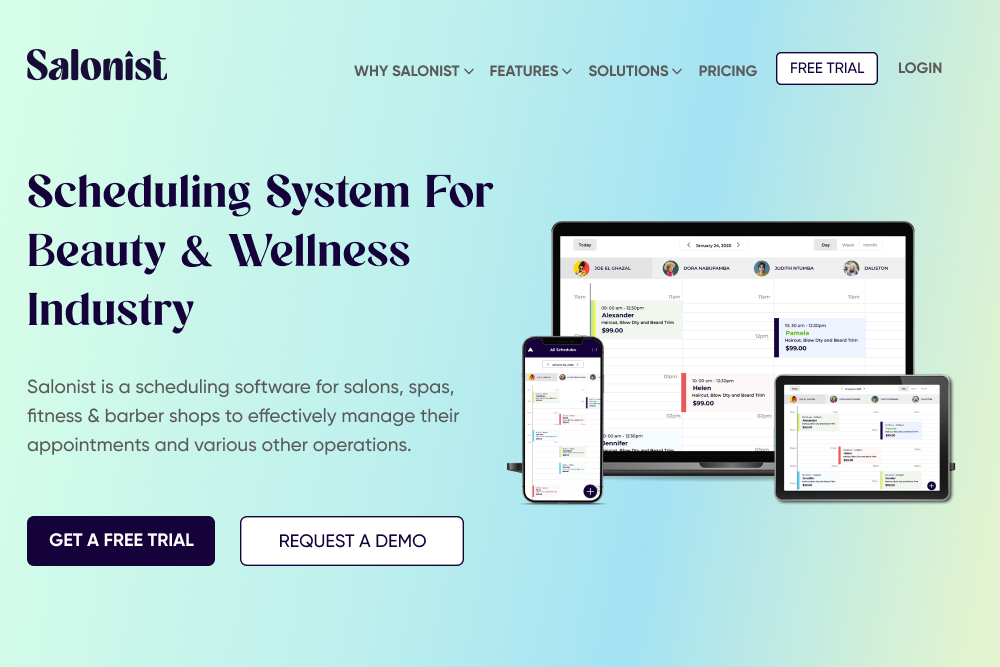 ---
When it comes to finding the best competitor or alternative of Fresha, Salonist stands out as a top choice. It is software designed specifically for salons that automates various administrative processes such as booking, billing, and inventory management. This automation ultimately leads to greater efficiency, creating a better experience for customers, and boosting employee productivity. New users can take advantage of a free trial period lasting 14 days. Afterward, the owner can choose from monthly or yearly pricing subscriptions, including Basic, Starter, and Business, to meet their specific needs and goals.
To take your beauty salon business to the next level, you'll love Salonist's affordable advanced features listed below:
Simplified appointment management.

Membership booking.

Customize iOS and Android mobile apps.

Accept payments with any getaway.

Staff role management

Client management.

Manage staff payroll and commissions.

Marketing automation. 

Branch location management

Third-party integration.

Centralized inventory.

Get more reviews.

Multi-language.
Zenoti
---
Just like Fresha, Zenoti is a growing and successful salon management software for all sizes of businesses. It offers digital booking and consultation services to enhance the customer experience. Also, this system allows for third-party integration with various apps to increase the salon's capabilities and power up task efficiency.
Leading features of robust Zenoti:
Digital check-ins and check-outs.

Seamless appointment booking. 

Centralized dashboard for handling client profiles. 

Customized solution.

24/7 customer support.

Real-time review. 

POS integration. 

Personalized marketing campaigns.  

Mobile solutions.

Manage retail and in-house inventory.

Get quick data insights through analytical reports.
Mindbody
---
Mindbody is a comprehensive Fresha similar platform that seamlessly manages appointments, staff, inventory, and customer interactions all in one integrated solution. This software significantly enhances efficiency, saving both employees' and customers' valuable time and effort. Additionally, it improves the sales reporting process by streamlining payment transactions through its Point of Sale (POS) system.
The most vital features of a versatile Mindbody are:
Schedule salon appointments and resources.

Data migration support

Access on any device.

1-on-1 setup and training.

Automate your marketing outreach. 

Comprehensive reports.

Incentivize referrals.

Branded mobile app.

Cancellations and refunds

AI front desk.

Multi-location management.

Payment and invoicing
Mangomint
---
Mangomint is intelligent and cost-efficient software that supports the smooth running of beauty and wellness businesses. It reduces the workload at the front desk by automating various tasks. This software has an easy-to-use interface that allows for quick and efficient delivery of high-quality services.
Unique features of the highest-rated Mangomint:
Stay in control from anywhere in the world.

Express booking.

Easy-to-use interface.

Calendar and scheduling.

Retail and inventory

Virtual waiting room.

Gift cards and vouchers

Two-way texting.

Staff management.

Salon membership plans and packages

Integrated forms.

Insightful reporting.
Rosy Salon Software
---
Rosy is an innovative software designed for salon management and one of the best Fresha alternatives for beauty salons. Customers can easily book appointments online, while employees can respond to requests quickly through the software. Moreover, with the help of software, salon owners can send notifications to customers about upcoming discounts & offers to encourage sales and increase profits.
Standard features of the Rosy Salon software:
Online client booking and scheduling

Reduce no-shows and late cancellations.

Data import and export

Manage the salon inventory.

Centralized dashboard

Streamline the payroll process.

Google calendar integration

Text or email confirmations

Reporting and business management 

Rewards and referrals

Affordable pricing and a free trial

Billing and invoicing
Timely
---
Timely is another one of the best alternatives to Fresha that helps manage day-to-day activities such as salon appointment booking and staff scheduling around the clock. It offers a free version with no credit card required and a pro version with various additional features.
The following are the rich features of Timely:
Collect deposits and cancellation fees. 

Keep your team organized with staff dashboards.

Provide in-depth reports.

Digital consultations.

Client logins.

Online bookings.

Onboarding and support from Timely

Security and privacy.

Cash management.

Multiple location management.

Mobile point of sale.

Client reminders.
Booksy
---
Booksy is another software alternative to Fresha for salons, barbershops, tattoo salons, nail salons, and more. It helps keep businesses on track and simplifies the whole management process. Booksy helps the salons save time and attract more customers. Try the instant demo and experience the revolution in salon management.
Key features of the all-in-one Booksy:
Book an appointment anytime, from anywhere.

Option to reschedule or cancel the appointment. 

Reports and analytics

Track loyal customers and give reward points.

Customizable smart mobile app.

POS and CRM systems

Send personalized promotions.

Barcode scanning.

Employee payroll and taxes
SimplyBook.me
---
SimplyBook.me is an online salon management software that offers much value to beauty salon managers and their staff members. It can be used for any type of salon business, whether it's a small or large-scale salon. This software makes it easy for customers to find and reach your business and avail themselves of your products or services seamlessly.
Essential features of the SimplyBook.me software:
Accept online bookings.

Notifications via SMS or email

Personalized client and admin app.

Integration and API.

Accept online payments and deposits.

Custom features.

Display Google reviews on the website.

Reputation management. 

Staff scheduling. 

Curbside check-in.
Appointy
---
Appointy is another great Fresha alternative solution. If you use the system to its full potential, it will bring more customers to your salon premises. This gives you an edge over your competitors.
The effective features of the Appointy:
It is convenient to book recurring salon appointments within one go.

Create custom forms. 

Intelligently group your customers based on specific attributes. 

Salon appointment calendar.

Online pre-payments.

The staff member can manage their own schedules.

Easy onboarding and free personalized setup assistance

Multi-location management.

Centralized admin portal.

Highest standards of reliability and data security.
Zolmi
---
Zolmi is a user-friendly platform that helps beauty businesses increase their revenue and profits by streamlining multiple salon operations. This application is on this list of the top alternatives to Fresha Software, thanks to its advanced functionalities.
Features of the powerful Zolmi:
SMS notifications.

Add your branding.

Salon POS.

Online marketing campaign.

Online review booster

Staff scheduling. 

Waiting list.

Stock management.

Website Builder.

Unlimited reporting.

Reputation management.
Parting Words
In conclusion, there are various alternatives to Fresha Software that you can implement in your beauty salon business. These solutions help simplify your daily administrative processes and improve how customers book and manage their salon appointments. You just need to list what you want from a salon application and pick one that meets your needs. If you choose the right software, you will easily be one step ahead of your competitors. You will not have to run your business manually or use an app that does not meet your expectations. But if you are still in a dilemma, you are not able to figure out which one is the best solution for your business. We suggest you give it a try, and you will see a major transformation in your salon business. An all-in-one Salonist saves you time and effort by automating booking, billing, and staff management.
---