Introducing innovative salon management software is essential for improving salon operations in the beauty industry. While Timely is a well-known choice, there are other alternatives worth considering. One such option is Salonist, which offers robust appointment scheduling, inventory management, and marketing tools. This elevates the customer experience and improves the bottom line of the salon business. 
Below is a list of top competitors to Timely with its advanced features that you can choose from to find the best fit for your needs.
The Excellent Alternatives of Easy-to-use Timely Booking Software
In this segment, we will cover the selected top competitors and alternatives to Timely.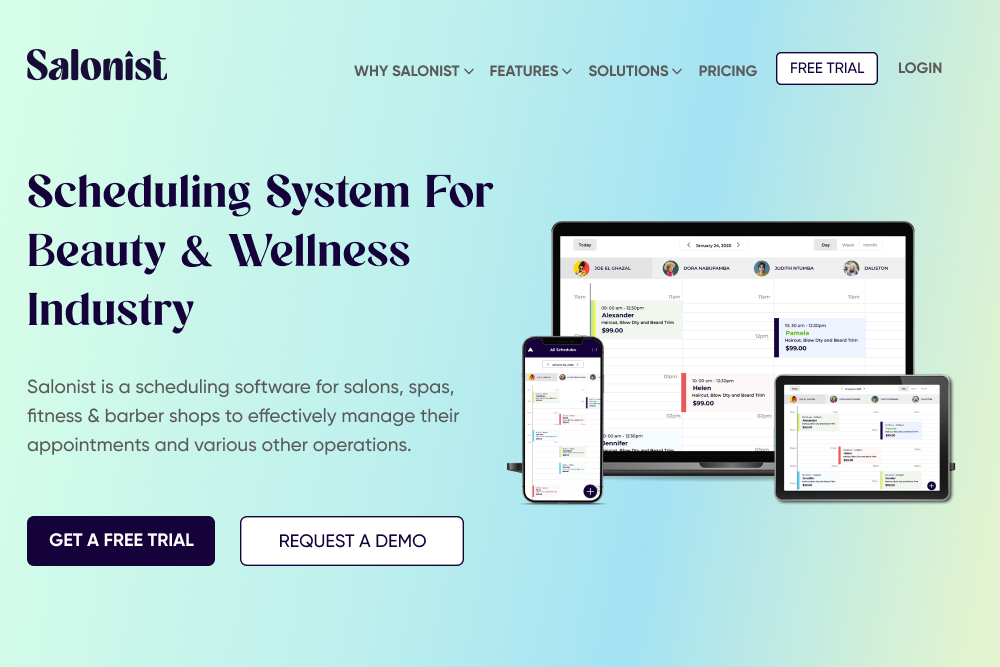 ---
A cloud-based Salonist is the best competitor of Timely, as it serves every size of spa, salon, fitness, & barber shop. This system manages the front-desk staff, customers, and beauty salon stylists from one software, making it the perfect salon booking process for business owners. Furthermore, it offers a 14-day free subscription with no credit card required for new users, so they can see whether it suits their goals or not. This ultimately boosts the user experience and streamlines various processes. 
Key features of the all-in-one Salonist:
Unlimited staff logins

Online booking management

Appointment calendar.

Automatic real-time notifications.

Chat support.

Activity dashboard.

Ticket support.

Daily backups.

Point of sale (POS).

Marketing automation. 

Customer feedback system.

Advanced security.

Loyalty /Rewards program.

Detailed analytical reports

Memberships and packages

Salon website appointments.

Multi-branch management reporting dashboard.

Inventory management. 

Client and staff management.
Fresha
---
Fresha is a great option if you're looking for advanced software with high-quality features that help your beauty business thrive. You can securely store and organize essential information about your customers, employees, and other data with this powerful software. Furthermore, you can access everything you need from any location with ease.
Essential features of the Fresha software:
Appointment bookings are easy across mobiles and desktops.

Manage multiple venues from one place.

Track salon customer history.

Record and track stock inventory.

Unlimited reporting.

Online self-booking.

Customizable message templates

Securely process client payments.

Marketing promotions.

Integration with third-party tools and solutions such as social media, Google Calendar, etc.
Rosy Salon Software
---
Rosy is a versatile salon management software that is known as one of the best alternatives of Timely for beauty salons. With this software, clients can easily schedule appointments online, and staff can respond to requests as soon as possible. What's more, salon owners can use the software to send notifications to customers about upcoming discounts and promotions, which boost salon sales and profits.
The following are the rich features of Rosy Salon Software:
Online client scheduling

Easy access to the salon client's history

Send personalized reminders.

Reduce no-shows. 

Data conversion.

Reporting engine.

Salon inventory management. 

Streamline the payroll process.

Mass email marketing.

Business management. 

Rewards and referral program.

Affordable pricing and a free trial

Billing and invoicing

100% availability from any mobile device
Vagaro
---
Just like GetTimely, Vagaro is an online booking platform with a user-friendly interface, specifically tailored to the needs of the beauty and wellness industry. This software is a good option for salon owners, as it has got you covered to enhance their salon productivity and effectiveness. 
Leading features of powerful Vagaro software:
Online booking on Vagaro, Facebook, and Instagram

Website builder.

Sell salon memberships, packages, & gift certificates.

Live stream beauty classes & consultations from any location.

Vagaro Drive for future reference.

Customizable calendar with waitlist & staff management

Monitor product levels. 

Manage invoices.

24/7 email support.

Create custom forms.

Manage staff payroll and commissions. 
Insight Salon Software
---
Insight is the best salon software that is known for its technical support, which is very responsive and able to quickly solve any issue that arises. It is considered a great investment for those who are looking to get salon management software or switch to the best Timely alternative.
Standard features of top-notch Insight Salon software:
Easily manage appointments and resources.

Develop long-lasting relationships with your customers.

Provide your salon customers with easy online booking 24/7.

Streamline salon business processes.

keep the customers engaged through email marketing campaigns.

Employee management. 

Track your inventory and sell more beauty products.

Complete payment transactions more efficiently.
Mangomint
---
Mangomint is smart and affordable software that helps beauty salon businesses run their operations smoothly and seamlessly. It automates several tasks that reduce the heavy workload at the front desk. The interface is user-friendly, which makes it easy to provide top-notch services quickly and efficiently.
Features of the innovative Mangomint:
Online booking.

Express booking™.

Two-way texting.

Manage salon retail and inventory. 

Calendar and scheduling.

Payments & point-of-sale

Virtual waiting room.

Integrated forms.

Gift cards and coupons

Mobile app access.

Multi-location.

Integrations.

Comprehensive reporting.
Booksy
---
Booksy is a feature-rich software designed for salons, makeup artists, barbershops, and similar businesses. It helps businesses keep track of their metrics and streamline management processes accordingly. You can test the demo version to experience the significant improvements it can bring to your salon management.
The most vital features of versatile Booksy:
Book salon reservations from anywhere, anytime.

Customizable Booksy App: iOS, Android

Flexibility to cancel the appointments. 

Barcode scanning.

Generate insightful reports.

Track the salon's loyal customers.

Send personalized text alerts.

Customer relations management system.
Mindbody
---
Mindbody is an all-in-one integrated solution that is similar to Timely, which manages customers' appointments, staff scheduling, and inventory levels. It significantly improves the overall salon efficiency, saving valuable time and effort for employees as well as customers. 
The effective features of the Mindbody:
Schedule salon appointments.

Customizable templates.

Referral program.

Access on any smart device.

Data migration support

Detailed analytical reports

Lead management. 

AI communication.

Waivers and forms

Location management.

Customer feedback system. 

Offer self-check-in.

Mindbody app listing.
Zolmi
---
Zolmi has different pricing plans that have different features to streamline salon functions. This software is one of the top alternatives to Timely, thanks to its advanced features such as analytical services, marketing automation, etc.
A cloud-based Zolmi advanced feature list is listed below:
Salon POS system

Prepare a separate customer waiting list.

Online reputation management

Client reviews.

Market promotional campaign.

Staff scheduling.

Automated confirmations and reminders.

Third-party integrations.

Add your branding.

Data privacy standards.

Zolmi business app.

Create a free calendar. 

Capture accurate timesheets to run staff payroll.
Zenoti
---
Just like  Timely, Zenoti is a highly successful salon management software that serves all sizes of salon businesses. It provides 24/7 online salon appointment booking to elevate the overall customer experience. Moreover, it allows salons to integrate with third-party applications, which enables them to improve their capabilities and task efficiency.
Unique features of the robust Zenoti:
Handle client profiles. 

24/7 customer support. 

Mobile solutions.

Digital check-ins and check-outs.

Manage salon retail and in-house inventory.

Get quick data insights.

Business intelligence.

Marketing and sales.
The Wrapping Up 
To sum up, each of these salon software options has its own unique features and strengths. So it's crucial to assess your salon's specific needs and budget before making a final decision. If you are confused and are not able to choose the best software for your business, we recommend trying the salonist. This software automates multiple salon activities, which saves a lot of time and boosts overall salon efficiency.  
---