The beauty and wellness industry is booming, and salon owners need robust and advanced software to manage their businesses effectively. This technology automates the appointment scheduling process, POS, managing finances, payroll, inventory, etc., in a few clicks. But at the same time, it's challenging to select the best software for your business. No worries, we came up with the two leading adversaries in this area, the Salonist and Vagaro. They are both top choices for businesses and help you stay ahead of the game. But obviously, you can't implement both systems on your premises; you have to make one choice as per your goals and objectives. 
In this comprehensive feature-focused comparison between Salonist and Vagaro, we'll dive into ten key aspects of salon management software. Let's start! 
A Closer Look at the Best Salon Management Software
All-in-one Salonist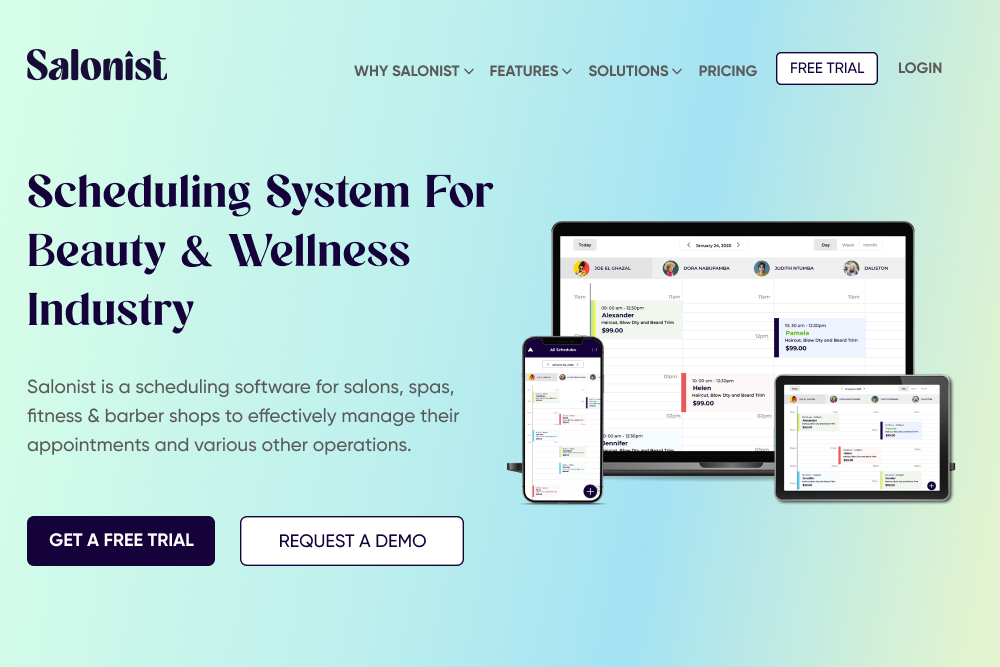 Salonist is the best alternative to Vagaro and is designed for people who want to book their beauty services from the comfort of their own homes without waiting in line. Salonist's flexibility makes it ideal for independent beauty professionals, small businesses, and large operations. The extensive list of features also makes it customizable for many professionals, regardless of the industry they work in:
Barber Shops

Hair Salons

Massage Therapy

Tattoo Artist Software

Salon Booth For Renters

Tanning Salon

Pet Grooming

Nail Salon

Spas

Bridal Salon

Medical Spa

Aesthetic Skin Clinic
Robust Vagaro Software
Like Salonist, Vagaro is a robust online booking platform with a user-friendly interface specially tailored to serve the beauty and wellness industry. Here is the list of different business types:
Salon 

Nail

Barber 

Tattoo

Tanning

Makeup

Hair removal

Beauty
This software manages booking, inventory management, credit card payments and processing, reporting, and more for these businesses. Vagaro is only effective for single-calendar users. 
In-Depth Feature Comparison of Salonist vs Vagaro
Salonist and Vagaro are popular salon management software that automates the various beauty salon, barbershop, and tattoo salon operations. To help you decide which one is the better fit for your specific needs, let's compare Salonist vs Vagaro based on key features:
Appointment Scheduling
Salonist offers a user-friendly appointment scheduling system that allows customers to schedule online appointments seamlessly. It provides automated appointment confirmation and reminders, which reduce salon no-shows. Also, salon owners can efficiently manage their schedules and avoid double bookings, ensuring a seamless workflow with more productivity. On the other hand, Vagaro offers similar features but lacks the same level of flexibility, user-friendly drag-and-drop interface, and customization options that Salonist offers.
Client Management
Managing your clientele base is crucial for long-term success and growth. Salonist offers a comprehensive client management system, including detailed customer profiles, past appointment history, and personalized marketing tools. Vagaro does provide some client management features, like email campaigns and client reviews.
Pricing
Salonist offers a flexible pricing structure based on the number of users or staff members. They offer multiple plans to accommodate various salon sizes and needs. Pricing can be differentiated under multiple plans, such as Basic, Starter, and Business, which serve different features. This tiered approach allows salons to scale their software expenses as their business grows. Vagaro also follows a tiered pricing model, but their pricing depends on the number of locations you have. So, if you own one salon, they will charge you differently than if you have multiple locations.
Point of Sale (POS)
When it comes to handling online payment transactions, Salonist takes the lead. Its point-of-sale system allows customers to easily make transactions with any payment. Also, it sends an alert notification to customers regarding the pending payment. Salonist provides in-depth financial insights through its analytical report. Vagaro, on the other hand, also offers features like payment processing and receipt printing. It is designed to handle transactions for salon services and retail products. But still, it doesn't quite match the stylist's simplicity and efficiency.
Reporting and Analytics
Making data-driven decisions is essential for salon owners to drive success and growth. Salonist provides detailed reports on several aspects of your salon business, such as revenue, bookings, finance, staff performance, and customer reviews. These insights help you refine your strategies and grow your salon business. Vagaro offers some reporting capabilities, including sales reports, inventory reports, and marketing performance metrics, but Salonist's reporting tools are more comprehensive.
Staff Management
With the help of the salonist, you can manage your staff schedules seamlessly around the clock on any device. It helps to keep track of their real-time performance, which is used for deciding whether they need more training sessions or whether they deserve incentives or rewards for their productive work. Also, it handles staff payroll and commissions.  Advanced Vagaro software offers similar functions such as scheduling, commissions, and performance analysis. It also helps to assign roles to each staff member for a better understanding of tasks, which makes the customer experience pleasant. 
Customer Support
Salonist is known for its excellent 24/7 customer support. Their team is knowledgeable and always readily available to assist with any issues or queries. They offer a live chat option or email support system, which helps to make the customer experience far better. Vagaro also offers customer support, but it may not always meet the same high standards.
Inventory Management
Salonist provides inventory management tools to track and manage salon products, whether they are retail or in-house. It helps you to track product levels, set reorder points, and manage suppliers efficiently. Vagaro also includes inventory management capabilities to monitor product levels and generate purchase orders. It integrates with POS for product sales.
Marketing and Promotions
Salonist's marketing features are a game-changer for the salon business. It allows you to create targeted email campaigns, SMS marketing, and even social media integration to promote your services effectively. So you can attract more customers to your salon and retain the existing ones. Vagaro offers marketing tools too, but they are not as advanced as Salonist's.
Online Booking
Salonist is an all-in-one solution that provides a personalized online booking system, which can be easily integrated into your salon's website and social media pages. Although Vagaro also has an online booking system, Salonist's customization options give it an edge.
Security and Data Protection
Data security and privacy are crucial aspects of a successful salon business. Salonists invest in robust security measures to protect your salon's sensitive information, whether it's related to customers, staff, or any other It has a centralized database where you can store and protect your information with multi-level authentication. No unauthorized user can access the information. While Vagaro also takes security seriously, Salonist's dedication to data protection is commendable.
Mobile Access
Salonist offers a robust mobile app that allows salon owners and staff to manage appointments, check schedules, and access client information on the go. The app is available for Android and iOS devices, ensuring flexibility and convenience for users. This mobile accessibility helps streamline operations and enhance customer service. On the other hand, Vagaro also provides a mobile app for salon professionals, enabling them to manage appointments, process payments, and view client data remotely. 
Concluding Remarks
In conclusion, after a thorough feature-focused Salonist vs Vagaro comparison, it's evident that Salonist is the best competitor of Vagaro. A Salonist outperforms Vagaro in several aspects of the salon management process. So, if you are thinking of switch to new salon software for Rosy Salon, then Salonist is the best choice. Its user-friendly interface, comprehensive feature set, and exceptional customer support make it the best choice for salon owners looking to streamline operations and achieve growth. 
---